Teenage Mutant Ninja Turtles: Out of the Shadows – PC
Teenage Mutant Ninja Turtles: Out of the Shadows – PC
Ficha técnica:
Nombre:
TMNT: Desde las Sombras
(También conocido como: Teenage Mutant Ninja Turtles: Out of the Shadows)
Fecha de lanzamiento:
28 de agosto de 2013
Plataforma:
PC
También disponible para:
X360 PS3
Género:
Acción, Hack and Slash (Superheroes)
Número de jugadores:
1-4 (Cooperativo: 2-4)
Desarrollador:
Red Fly Studio
Distribuidor:
Activision
Idioma:
Textos: Español
Voces: Inglés

Descripción:
Teenage Mutant Ninja Turtles: Out of the Shadows te lleva al origen de todo. Juega con las cuatro Tortugas, Leonardo, Donatello, Michelangelo y Raphael en su lucha por salvar a Nueva York de los mutantes, el Clan del Pie y Shredder. El fluido modo cooperativo de incorporación libre, los combos en equipo y los combates incesantes hacen que este sea el juego que los fans estaban esperando.
Características:
• ¡El poder de las Tortugas! ¡Cambia de Tortuga en cualquier momento!
• 4 modos dinámicos: Campaña, Arcade, Desafío y Entrenamiento en dojo.
• Multijugador: ¡modo multijugador cooperativo para 4 jugadores en línea para que te sientas una auténtica Tortuga Ninja!
• TMNT en equipo: atractivo sistema de combate en grupo con ataques combo sincronizados. • BONUS Código Original Red Bandana! Ingrese este código para desbloquear los cuatro pañuelos rojos de los cómics originales TMNT! ALT+yabbayabba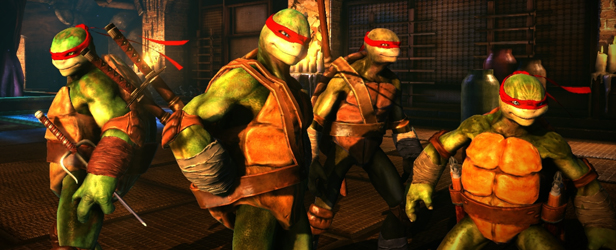 Requisitos PC:
Requisitos mínimos:
OS: Windows 8, Windows 7, Windows Vista, Windows XP
Processor: Intel Core 2 Duo E6600 @ 2.40 GHz/AMD Phenom X3 8750 @ 2.4 Ghz
Memory: 2 GB RAM
Graphics: GeForce 8800 GT series with 512 MB RAM or ATI Radeon HD3870 with 512MB RAM
DirectX: Version 9.0c
Network: Broadband Internet connection
Hard Drive: 5 GB available space
Sound Card: DirectX® 9.0c or later Compatible Card
Additional Notes: Internet connection for Steam activation and multiplayer functionality.
INFO:
Extraer
Montar o grabar el archivo .iso
Instalar
Jugar
Si te gusta el juego ¡cómpralo!

Teenage Mutant Ninja Turtles: Out of the Shadows – PC
Tamaño: 2.32 GB

Trailer:
Enlaces: